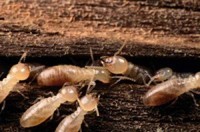 The white monsters never sleep, and a single female termite can lay up to 30, 000 eggs per day! Such factors raise the signs of severe damage to your property.
The termites enter the interiors of the structures through cracks or crevices including other openings. It causes severe damage to the house walls and beams including other supporting elements of the structures. The lifespan of the structure reduces due to the extensive damages caused by the termites.

Structural damage may also increase the probabilities of severe injuries.

The termites chew down the woodworks in a building, i.e., doors, windows, furniture and other materials that indeed cause a huge loss, and the repairing costs get burdened on your budget.

Some specific species of termites can chew hard materials. These species of termites damage anything that they can chew. The list includes electric wires! Damages to the electric wires would cause a short circuit which indeed is a huge threat to life and property.

Termite infestation can extensively damage your beautiful garden as the monsters slowly damage the live plants and trees.