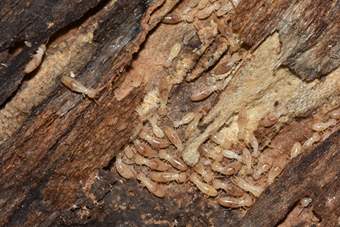 The termites avoid sunlight and prefer to live in dark places. The monsters become active at night, thus, their activity often goes undetected. The white monsters leave some signs of infestation which you need to look out. If the signs of infestation are left unnoticed for a long time, the damage level will escalate high up!
Mud tubes are symbolic symptom of termite infestation. The mud tubes originate from the ground which can be easily found on anything. The tubes are clay like structure and brown/dark brown in color. The tubes maintain dark and humid environment suitable for food storage and development.

Some specific species of termites don't build tubes. Rather, these termites build subterranean tunnels. These tunnels are deep down the soil.

The termites also build blowholes in trees.

The white monsters create an earthen packing on the surface of timber or walls.

Termite droppings clearly indicate the presence of the pests in the surrounding.

The reproductive termites have wings; if you find the termite swarms flying or you find piles of wings in your property, the pests have infested the surrounding.

Discolored walls, hard wooden furniture, peeled off paint from the products, small holes in dry walls, etc are few other signs of termite infestation.
Hollow and damaged woods are major signs of termite infestation.