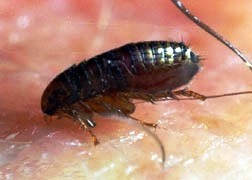 Enviro Safe Pest Control is a licensed and registered pest control company offering unmatched services to Flea Pest Control  Melbourne . We inspect the entire surrounding and the pets in the house. Before implementing the treatment techniques, we identify the parasites and likewise select the treatment methods. We have access to different advanced technical tools and equipment. We make use of the tools if necessary. The pesticides we use to kill the fleas are 100% eco-friendly and safe for animals including humans. The chemicals destroy the fleas and larva in the surrounding as well as the host's body without affecting the host.
Our professional treatment techniques involve cleaning of the probable infestation assets like toys, clothes.

The experts wash the pet bedding with proper care.

We target the carpets and rugs as well as bedding, flooring, upholstered furniture by vacuum, mopping and sweeping as applicable.

Our treatment includes pets and birds.