In order to grow your business, it is very important to portray the best side of yours to the customers. One of the most important ingredients for a successful business is hygiene and welcoming attitude. Weather it's a warehouse, offices, hospital, factories, hotel etc., nobody wants to be welcomed by uninvited guests which are already present also termed as pests.
In Melbourne there are several kinds of pests ranging from rodents, insects, birds' furry animals etc. which find it quite enticing to sneakily find a place in your property. Commercial premises serve as a great hiding and later living and excellent thriving place for most pests due to its large area, being less active during the night and availability of food and water. Unfortunately, if they reach a level of infestation then they can be seen by human eye freely roaming around here and there. This can immensely tarnish your reputation.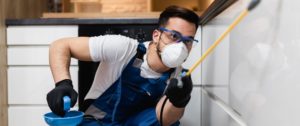 Comprehensive Pest Control Inspection
If you are worried about commercial pest infestation then it is advisable to get in touch with Commercial pest control Melbourne as soon as possible. Pest control services start off with a detail inspection of your property to identify the variety of pests and the level of infestation. Once the intensity is known then commercial pest control services Melbourne will come out with a plan keeping in mind the allowed time frame by the client. With their expertise knowledge they can prepare a tailor-made plan keeping in mind the client's budget, timeframe, and other requirements.
Preventive measures and suggestions
A good pest control agency always aims to prepare a strategy which targets complete removal of pest by making use of environmentally friendly techniques. Not only removal of pest they also make sure that the pest does not return. For this they provide with preventive measures and provide tips and suggestion to the client. It is not surprising to see more than one type of pest residing in one simple property therefore they educate the client to keep an eye on alarming signs and act fast so that pest do not reach a level of infestation which it actually gets difficult to control them
For commercial pest control Melbourne, you can approach the team at Enviro Safe Pest Control. We will conduct a thorough inspection of your property and come up with the most appropriate solution that helps keeping your commercial premises pest-free. To know more about our commercial pest control services, call 1300 997 272 and get in touch with us today.