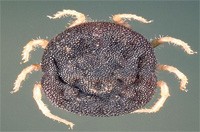 Envirosafe Pest Control is a certified pest control company catering the best services for Tick infestation removal. We have the most experienced pest controllers in Melbourne. Our pest controllers are well-trained and licensed. The professionals have vast knowledge on different types of pests in Australia. The experts are well-acquainted with the common species of ticks found in Australia. We implement the most effective methods of tick control after learning about the species of ticks. If you Found tick in house, consult our experts!
We follow a step-by-step procedure to kill the ticks and prevent infestation. Upon receiving the call from the clients, we visit the property with the best experts and certain necessary tools and special equipment. We analyze the entire property and trace the infestation spaces. We also identify the species of ticks in the process. We prepare the best plan to kill the ticks and prevent the ticks from infesting the property in future. We implement the best techniques and tricks to kill the ticks.
We use eco-friendly pesticides to kill the ticks as well as use certain natural techniques for killing and eliminating the ticks from the property. We use safe Tick killer for house which would not affect the products or humans and pets. The certified tick killers are eco-friendly and safe to use. Apart from the interiors, we have the best treatments for the exteriors. After executing the treatment process, our experts share the essential tips with the clients to prevent tick infestation in their property.