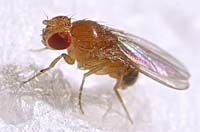 Flies breed on rotten food, piles of manure, garbage, and dead animals. These pests carry dangerous bacteria and other hazardous materials on their feet and legs as well as entire body. Wherever they land after a flight, the bacteria and other hazardous materials drop from their body. If the landing space is food, it contaminates the food and raises the high risk of diseases.
The flies carry more than 100 different pathogens which cause severe health hazards.

The pests carry different bacteria resistant to common antibiotics.

The flies transmit a wide range of diseases like dysentery, salmonella, shigellosis, E.Coli, Cryptosporidium protozoa, myiasis, tuberculosis, cholera and parasitic worms.

The common symptoms include fever, vomiting, diarrhea, abdominal cramps, etc.

The flies can also directly infect the humans or any other animals when they sit on wounds.

There are certain species of flies that inflict painful bites (For More Details Click Here).