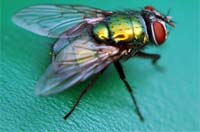 Enviro Safe Pest Control is a licensed and certified pest control agency in Melbourne, Australia. We have licensed and highly experienced pest controllers. The experts have extensive knowledge about the techniques of repelling flies. We provide the best answer to the question of How Repel Flies in Australia!
Once assigned to the pest control project, we appoint the experienced pest controllers.

The process of Fly control Australia begins with the inspection of the property or premises.

We identify the species of flies that infested the property.

We likewise prepare the control treatment program that suits the clients in the best way.

Our treatment includes different steps that ensure long-term protection.

Exclusion involves the techniques of proofing the entrance areas which prevents the flies from entering the premises.

Restriction of flies involves good housekeeping practices and removal of possible fly breeding sites.

Using appropriate fly control treatment as per the individual requirement, we implement the best techniques of destruction. Our treatment technique includes baiting, misting, larviciding, and flies bags.

After execution of proper treatment techniques, the experts monitor the premises at regular intervals and ensure fly prevention.