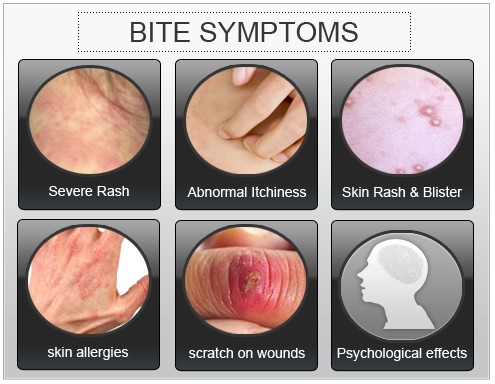 You won't find bed bugs and their symptoms immediately. You can mark the symptoms after few days. After few weeks or days, you can note down certain symptoms of bed bugs infestation and Bed Bug Bites.
If you wake up at the midnight from your deep sleep because of skin irritation or burning sensation.

If you find small droplets of blood on the sheets in the morning or at the bed edges.

If you have a pet and it keeps on scratching and gets annoyed whenever it settles down on the carpet.

If you mark red patches or swollen area with a dark red center on your skin surface.

The bed bugs target exposed skin areas which are left uncovered while sleeping. If bite marks are visible on the exposed skin area, you are sleeping with bed bugs throughout the night.

You can mark dead scales of bed bugs on the bed.

Strong and unpleasant odor like that of a wet towel from the bed.
If you mark any of the above-mentioned symptoms, you can get assured that the bed bugs have infested the interiors.
Consider above health concerns, bed bugs removal idea seems to be reasonable and to keep yourself away from these nasty creatures.