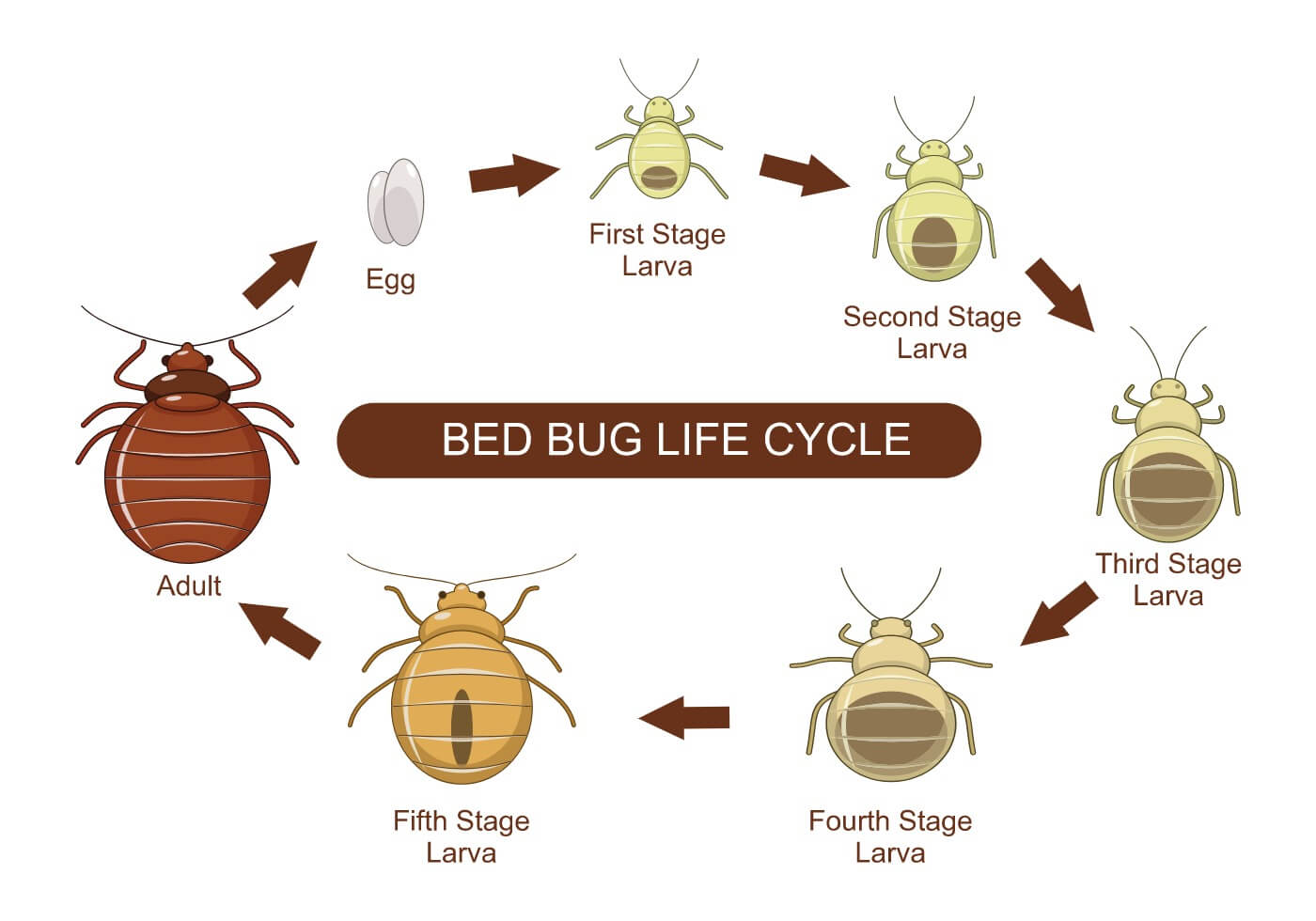 Cimex lectularius is closely associated with the humans from thousands of years but it can survive well on birds, rabbits, mice, etc. These are brown in color. The nymphs of this bed bug species die within few days of hatching if don't get any food. The adult females also reduce egg production if those stay prevented from food. The adult bed bugs need to take their blood meals from warm-blooded hosts.
The female bugs lay 5 eggs per day. Within 4-5 days, the eggs hatch and the nymphs require at least one blood meal before developing to the next stage. The lifecycle of the bed bugs undergoes five stages to become an adult. The bugs consume their blood meal within 5-10 minutes. The adults feed on the hosts for several times in a week. Mating of these pests occurs off the hosts in a unique form called traumatic insemination. The adults 6-12 months and survive for long periods without food!
Cimex hemipterus remain away from light and hide in cracks and dark areas during the day. They take around 3-5 minutes to engorge on the blood. After feeding they return back to their hiding places. The adult Cimex hemipterus are reddish-brown in color and can grow up to 8mm in length. These pests lack wings and have antennae with four segments.
The distal two segments covered in the sensilla ensures enhanced sensory perception. This bug species does have sensory hairs on legs, thorax as well as abdomen parts. The legs of the bugs allow them for rapid movement on the host's body. The females have shorter sensory bristles but are negligibly longer and wider than the males. The eggs hatch within 10 days and the larvae pass through 5 stages to attain maturity or adulthood. For improving to the next stage, the larvae require a blood meal.
In high as well as low temperatures, the eggs take a long time to hatch.   Starvation also affects their maturity level. This species is nocturnal and is highly active just before dawn. They locate their hosts following the body temperature and carbon dioxide.