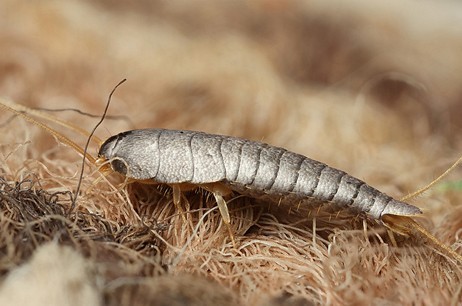 Do you know what cause silverfish? You may bring the creatures to your home unknowingly! If you bring any cardboard boxes or plastic containers to your home, stored in infested areas, those properties will contain silverfishes. These pests also enter through the foundation cracks or gaps around the doors. The silverfishes spread fast!
Silverfish live in damp areas with a good source of food, thus, can be commonly found in sinks, basements, bathroom, damp cupboards, etc. Inspect such areas to find any traces of silverfish. You won't detect a single silverfish as these infests in the group.

Silverfishes feed on any food containing sugar or starch, so, you can find these creatures in your kitchen.

The tiny silvery creatures eat glue and wallpaper paste so you can likely find them inside books as well as walls. If you find any signs of book damage or damaged wallpapers, silverfish have infested the surrounding.

Silverfish can digest linens and cotton, so they are commonly found in the closets, beds, furniture, etc.

If you find holes in your clothes, and paper products it is a sign of silverfish presence.

If you find floating bugs with features of silverfish in the groceries, the creatures have infested your kitchen.

Silverfishes are nocturnal, so they remain active in the night and hide if they sense any danger.

Silverfish eggs are tiny and found in cracks or cervices. These white in color and oval in shape eggs are 1mm long.

Presence of silverfish droppings in the possible locations of infestation can be helpful.
Before the infestation spreads, it is essential to detect the creatures to prevent extensive property damages. As these are hard to detect, appointing professional pest controllers would work effectively, and you will get rid of the nuisance creating tiny pests.